Don't waste more time and money on marketing ideas that don't work,
Focus on these 5 key marketing ingredients to produce the biggest results and competitive advantage!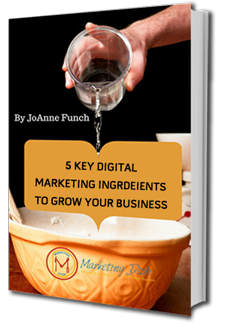 Serving up solutions for your online marketing success
Jump Start Review
Is your marketing generating the results you are after?
If your answer is no, let me take a fresh look and offer some strategic recommendations that can be implemented quickly.
Done with You Marketing
Stop the overwhelm of what to do next in your marketing!
I work with you to understand and implement a  core inbound marketing methodology.
Done with You Content Marketing
Content marketing is a powerful way to add value to prospects and customers.
I work with you to build the processes and procedures that are necessary to support ongoing content marketing success that drives your brand engagement.
Social Media Strategy
Social media can be confusing and exhausting.
I work with you to create a strategy that works for your marketing goals, budget and management capabilities. Social media is not a one-size fits all marketing solution. It requires a plan & knowing how you will execute on that plan.


What other small business owners say about working with me