What if I told you it was actually possible to really stand out from the crowd, get more quality leads, and stay top of mind with the decision makers you want to know on LinkedIn with some LinkedIn training!

Did you know that LinkedIn is 277% more effective for lead generation than Facebook and Twitter?
72.6% of salespeople who use social media outperform their colleagues who aren't using it.
Last year alone, there were 5.7 billion searches performed on LinkedIn
I help professionals get found, stand out from the crowd and attract your ideal customers.
I love social media & LINKEDIN is where I soar!
I am recognized as one of the top 200 Trainers worldwide!
I WORK WITH professionals to develop strategies designed to build a stronger personal & professional brand, attract influential connections and create more profitable opportunities resulting in unlimited growth potential.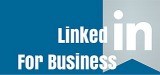 Learn how I can help you gain more exposure for your company or employer brand, manage your professional reputation and leverage LinkedIn for leads: www.linkedinforbusiness.net or email me at mailto:joanne@linkedinforbusiness.net