Is your LinkedIn profile generating consistent profile views, leads and business?
If you answered NO, than you need a LinkedIn profile makeover!
LinkedIn is the most powerful lead generation tool we have access to today.  If you are not being found for your skills and expertise than chances are pretty good that your profile is not optimized to attract the people you want to connect with.
A fully optimized LinkedIn profile does the following;
Attracts people you want to build a relationship with
Attracts people who are interested in your products, services or brand.
Helps you stand out from the crowd!
I have helped hundreds of people create award winning profiles and want to help you do the same! With the proper use of keywords and optimization of your skills and expertise, learn in more detail how I can help you get found by clicking on the image below and get started today!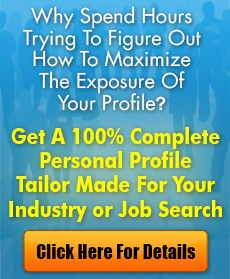 "If you are struggling to gain exposure for your brand and gain a deeper understanding of how to leverage LinkedIn, then I strongly recommend you contact JoAnne. She updated my profile designed to attract the right people and trained me to use this very powerful tool, which I discovered has a significant amount of targeted leads." – Brad Bassi, Certified Residential Appraiser, CREA
"JoAnne was instrumental in helping to update my LinkedIn profile page and launch a stronger, more focused on-line presence. JoAnne was easy to work with as well as insightful and positive. JoAnne also provided informal LinkedIn training to me which was hugely helpful! Her tips and techniques have helped me become a savvier user of LinkedIn."– Lisa Dennerll, Change Leader
To learn more about LinkedIn be sure to check out the blog at www.linkedinforbusiness.net