Minneapolis Social Media, LinkedIn Speaker – Trainer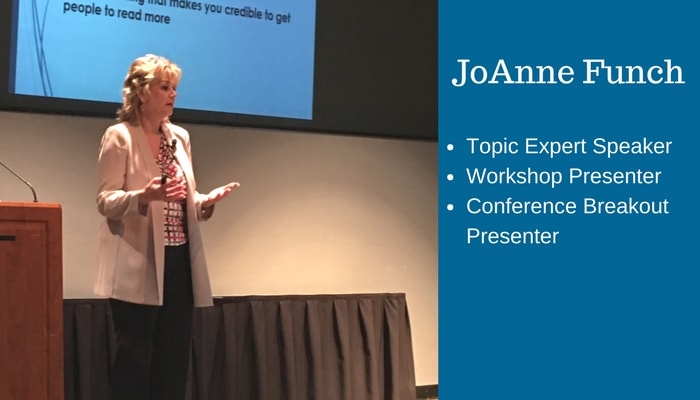 Most Popular Social Media Training Session Topics:
Creating a Social Media Strategy – How to grow your business or brand
TAKEAWAYS:
– Every aspect of your social media optimization strategy should focus on solutions that you can provide to your customers via social networking.
– Learn that social media is an amplifier of your existing business goals.
– Learn how to collect market information, share and engage your target market.
– Elements to include in a social media plan
– Learn how and when to outsource and what resource tools will save time and still offer consistency.
I speak to professional groups and associations, conferences and small businesses. My presentations are more effective when customized to the group I am speaking to. Email me to discuss your needs:  joanne@marketingdish.com
LinkedIn Trainer, Speaker & Strategist
I love social media & LINKEDIN is where I soar! I am recognized as one of the top 200 Trainers worldwide!
I work with individuals & companies leverage LinkedIn to grow their business & manage their professional brand & reputation. I GET RESULTS: More profiles views, build better networks, & get more leads.
The people I love to work with include:
1.  Small to Medium Businesses – Are you looking for a competitive advantage? I teach companies how to build a professional profile, etiquette & best practices & guidelines, how to search and connect with ideal clients and maximize your efforts and time. I also train leaders and teams.
2.   Entrepreneurs – Are you ready to 'Up' your game, build your brand exposure and connect with your ideal client? I train you on how to gain brand exposure, develop a network of meaningful connections and relationships.
3.   C Level executives – Who want to build awareness, engage & retain talent.
4.   VP of Sales & Sales Managers – I help your sales teams find new leads, nurture those leads into long-term relationships resulting in more conversions. I teach effective strategies, tactics and social selling concepts.
5.  Meeting & Event Planners, Organization Planners – Are you seeking a speaker on LinkedIn?
I offer presentations, breakouts, and hands-on training.
6.   Job Seekers who are looking to stand out from the crowd and make a greater impact with a profile that is professionally crafted conveying your career story.
Contact me to learn how you or your company will benefit from the #1 social network for business or as your next conference breakout speaker!
Sampling of companies I have worked with
and conferences I have presented for: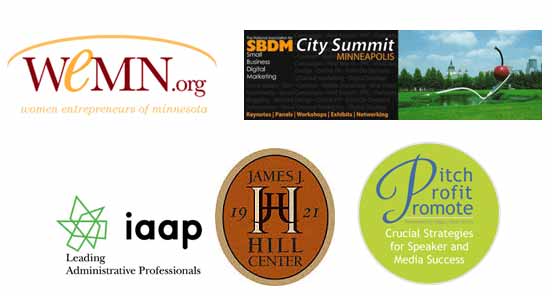 What people are saying…
"JoAnne was a hit at our annual Minnesota Business Partnership Executive Assistant Conference in October. Her presentation was popular because it offered timely, easy to understand and practical advice. She's a professional who is really easy to work with and so much fun to learn from! Our attendees are hoping I ask her back next year!" – Katie Chisholm Nadeau, Director of Operations at Minnesota Business Partnership
"I worked with JoAnne recently and also attended her workshop on LinkedIn. Her ability to get to the point and show value is very powerful. Because of her experience and commitment, she is able to work with both professionals that are just discovering the value of LinkedIn and those who have some skills but want expand their presence."- Richard Scorza Founder & CEO SalesForum.TV
"JoAnne facilitates a LinkedIn workshop to small business owners for the University of Minnesota's Office for Business & Community Economic Development. The content of the material presented contains a great deal more information than any similar workshop I attended. It is detailed and provides the participants tools and tips to gain visibility and develop strategies for themselves and their companies." – Diane Paterson, Associate Director of Small Business Development Center, University of Minnesota