I attended the annual Social Media Rockstar Event in Minnesota this past week with some really insightful leaders in marketing and social media. The conference offered a smorgasbord of ideas to grow your business. Here are some of my takeaways that I hope you will find value in for your business.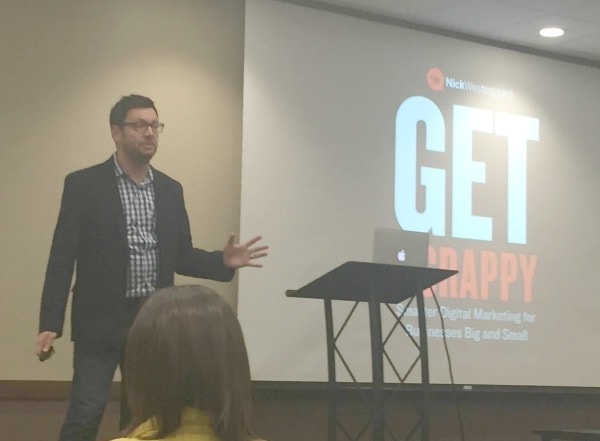 Nick suggested we get smarter about marketing. Start with smart steps:
1. Start with a sound strategy – Why, What, When, Where, Who & how
2. Know your why – is your marketing goal to gain more sales, PR, brand awareness, market research? Before starting any marketing, you must be clear on your why.
3. What means what will you do and who are you trying to reach. What channels or media will you use to accomplish your why.
4. Where – If you market is millennials than consider investing in a Snap Chat strategy.
5. Who & how – Create questions around who are you serving and what tools will you need to accomplish this.
Create Content that answers questions. What do people most want to learn from you, your niche or industry that solves their problems and create all your content that answers those questions.
An interesting statistic Nick mentioned was, 70% of people still prefer to receive information by email versus social. In fact, there are twice as many email accounts than people on Facebook and think about this – we are shown 63GB of media on a daily basis online which is an incredible amount of content.
When you have loyal followers on your email list they look forward to getting your messages.
Four Simple Content Hacks
1. Relentlessly repurpose you content.
2. Utilize historical content – example, throwback Thursday
3. Curate relevant content – most small businesses can't create enough content!
4. Get user generated content – interview you clients, get case studies, ask for comments on social media – simply incorporate your users into your content.
How to Influence Your Customers
Lee Odden, author of "Optimize", CEO and co-founder of Top Rank Marketing presented on How to Win Social Friends & Influencer Your Customers. Lee's presentation focused on influencer marketing which has been all the buzz particularly the past year or so.
WHY? The pressure to create new content is on. 62% of a marketers time each month is spent on content creation. (Source: Kapost).
With this pressure, your content must be influencing your customer in some way.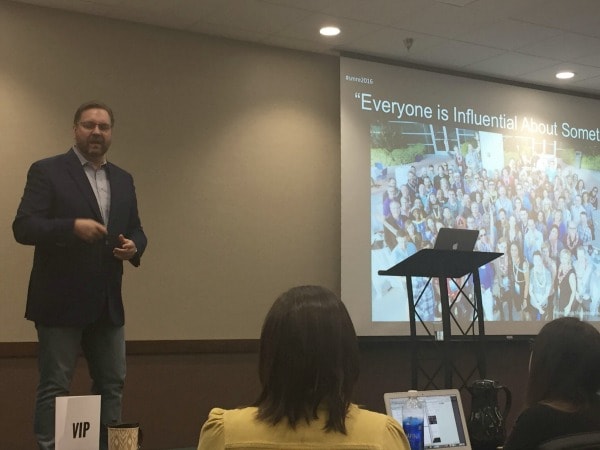 Customers don't trust ads, he reported there is a 41% growth in ad blocking and 198 million ad block users worldwide. So who do customers trust? The answer is each other!
How do you stand out with influence?
Lee suggests you co-create content with influencers. He provided examples such as:
• Cambria – the company with the high-end countertops has incorporated celebrities into their marketing
• Deluxe has incorporated Shark Tank into their marketing starting "The Small Business Revolution"
• Be Charming, a Pandora Store at the Mall of America – got bloggers and customers involved to build community and utilizing the customer experience into their marketing
• My Minnetonka – yes the moccasin company crowd sourced pictures of their customers wearing their products.
"Co-creating content with customers makes them more influential"- Lee Odden
The examples above add authenticity to their marketing because they use real people. It provides a variety of content, creates engagement and participation gets action. Influencer marketing fits into your content strategy with some planning. You can elicit customers to deliver content and you can find people already known for what you want to be known for and find a way to incorporate them into your marketing.
If your goal is to work with industry influencers I recommend you check out Lee's ebook called "15 Ways to Fail & 25 Ways to Win with Influencer Engagement."
Utilizing Customers Reviews to Influence
The final keynote was delivered by Aaron Weiche, of Get Five Stars. Today we consumers are savvy. We care more about the opinion of others when it comes to making a buying decision. Whether that be where to eat dinner out or our next purchase on Amazon. We read reviews!
Aaron said "90% of consumers read reviews before making a purchase and 73% of those read between 2-6 reviews. Aaron went on to say that review older than 3 months were no longer relevant." Wow, that blew me away. So the tip here folks; you need consistent and quality reviews!
Where should you get reviews?
• Google My Business
• Google Reviews – on your Google+ page
• Claim your business on Yelp
• Bing Places
• Facebook Business Page Reviews
• LinkedIn Recommendations
Steps to gaining online influence with your customers
1. Become customer feedback and complaint friendly
2. Respond, remain calm, own it, resolve complaints
3. Understand their story is your story – use in your marketing
4. You can start today!
"Complaints are the new material of which a better business is built"- Aaron Weiche
16 Killer Marketing Tactics for 2017
–>>download this FREE Ebook